Some things in editorial production never change...


This cartoon appeared in the Illustrated Sydney News in December 1896. The caption reads "Please, Sir, the Boss says you're to draw somethink funny, and I'm to wait while you does it".

This is the flag (not from the first edition; the early ones were too mildewed). Click to view a larger version.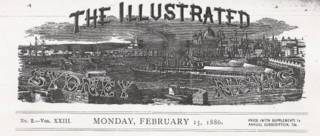 The loading docks on the right now house trendy nightclubs and the terrace houses behind them are filled with young singles...

I found the edition with the first half-tone photos, but the microfiche's cr*ppy photocopier wasn't up to reproducing anything worth posting here. I also had a look at some 1927 Daily Telegraphs (am still waiting for my CD from the library) and will put up some pages later tonight. I must say that after being immersed in ugly post-World War II papers for the past month, I found both of these early papers a visual treat. The Illustrated Sydney News was a very nicely laid-out publication with a lot of gorgeous engravings and the 1927 Daily Tele was clean, modular and used nice typography. Of course this was largely due to technological restrictions; when we got new toys after WWII, we went nuts...
More to come.