Stop the presses!
Rupert Murdoch had to utter the famous line on the first night of printing when he launched Australia's new national daily, The Australian, on July 15, 1964... and it was all due to a single incorrect number on the front page masthead. On July 14, the staff were watching the first edition roll off the presses when Eric Walsh, an employee of another Murdoch paper - the Daily Mirror - wandered in to tell Murdoch about the birth of his new baby and to see how Murdoch's own "new baby" looked. Walsh picked up a copy of The Australian and immediately spotted the error on page 1 - it was dated July 14, 1964, instead of July 15, 1964. Murdoch stopped the presses and avoided damaging the paper's debut with an embarrassing mistake.
I'll have to wander down to the Holt Street dungeon for a full copy of the first front page; in the meantime, here's the top of it, ripped off from the book which was the source for this story (Rupert Murdoch: A Paper Prince. By George Munster. Viking. 1985).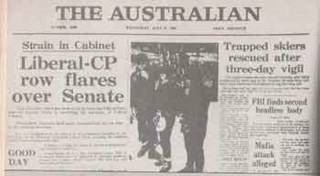 Part of The Australian's first front page, July 15, 1964

The Australian drew some criticism for its early content, but its design scared the bejesus out of the competition. It was considered the most open, modern design of any paper in the country. The designer was Guy Morrison, who still lives in Sydney and who I'm hoping to interview soon about how he created his new look, which is credited with bringing about some of the most significant changes in Australia-wide newspaper design.